Keynote Speech:
Communicate your research successfully!
Science communication for research proposals, articles and posters
Thursday, January 18, 2024, 04:00 – 04:30 pm
Clinical Trial Center of the Faculty of Medicine | large lecture hall, ground floor
To ensure recognition for your excellence science, your ability to communicate your research ideas and results it of outmost importance. In this presentation I will discuss do´s and don´ts of science communication and I will share my experience on how to write high impact research articles and funded research proposals and how to design award winning posters.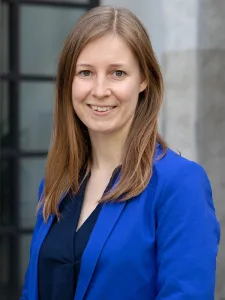 Speaker: Jun.-Prof. Dr. Christina Lamers,
Institute for Drug Development, Leipzig University
Christina Lamers studied pharmacy at the Goethe University in Frankfurt am Main and received her licence to practise as a pharmacist in 2009. This was followed by a doctorate at the Institute for Pharmaceutical Chemistry there. From 2015 to 2017, Lamers conducted research as a Marie Curie Fellow postdoc at the Ecole Polytechnique Federal Lausanne on the topic of phage display and peptide inhibitors of intrinsic coagulation. She then worked as a postdoctoral researcher and lecturer at the University of Basel with research focus on identification and optimisation of cyclic peptide therapeutics.
Since May 2022, Dr. Lamers has been a junior professor of pharmaceutical and medicinal chemistry at the Medical Faculty of the University of Leipzig.