The 23rd biennial conference of the European Association for Chinese Studies (EACS) will be held in Leipzig from August 24, 2021 to August 28, 2021. Local organisation is provided by the Institute of East Asian Studies, Leipzig University.
Call for Late-Breaking Session Submissions
The EACS 2021 is now accepting a limited number of late-breaking panel proposals for inclusion at the 23rd biennial conference of the European Association for Chinese Studies (EACS), which will be held in Leipzig from August 24 to August 28, 2021.
Topical and timely late-breaking panels provide a forum for engaging in dialogue on current events that affect our perspectives on and work in the Sinophone world. The organising committee encourages submissions on all relevant topics—not limited to the political sphere—that represent emerging data or trending topics from the past six months. Read more
Registration for EACS 2021 Presenters Now Closed
The registrations for presenting your peer-reviewed paper at EACS 2021 are now officially closed. Thank you for committing so early in advance. We know we have been asking a lot from you! The step was necessary to find out if enough presenters support our postponement plan and to clarify where we stand with our planning and budget. Having received close to 600 registrations, we now feel confident that the postponement has enabled us to host an EACS conference uncompromising in its size and thematic diversity.
For those who could not make it: We completely understand that uncertainties connected to the ongoing COVID pandemic may have prevented you from committing to this conference and still hope to see you in Leipzig or at another EACS conference in the future.
EACS 2020 Is Postponed and Becomes EACS 2021
As the Corona pandemic is dragging on, the EACS has decided that conditions do not allow holding the EACS 2020 conference in the final week of August 2020. Germany has been fortunate to avoid the worst, and now that the pandemic is receding, society is gradually opening up again. However, with travel restrictions still in place and a second wave feared by epidemiologists, holding the biennial conference of the European Association for Chinese Studies (EACS 2020) this August appears too risky. The board of the EACS discussed at length alternative options, including an online-only conference at the original date or even complete cancellation. In the end, we decided that the conference will be postponed by one year to August 24–28, 2021.
We apologise for these complications, which are caused by forces beyond our control. We hope that all who had committed themselves to EACS 2020 will also do so for EACS 2021 and help make this the largest and most diverse EACS conference in many years.
Young Scholar Award Goes Online
The 2020 Young Scholar Award will be presented in a virtual event format on September 19, 2020, at 10:00 am CET. Please see the EACS homepage for further information (http://chinesestudies.eu/).
Tickets
Tickets for the EACS conference and accompanying events can be bought here. Frequent questions are answered here.
Discover Leipzig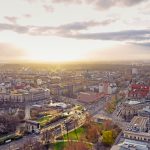 Discover Leipzig through the website of the city's tourist information office.
Prepare your trip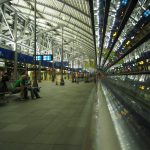 Read about our venue, about transportation and accessibility, receive support for your visa, or book a hotel (provided by HRS).
Programme information
Read about the conference's schedule, the keynotes, and the accompanying events.
---
Photo Call for Papers/Tickets © Paul Trainer & Universität Leipzig; Photo Photo Discover Leipzig CC-BY-SA 4.0 LeipzigTravel; Photo Prepare your trip; CC BY-SA 3.0 Daniel-obst; Photo Programme information © Leipzig University